Sampling is a technique used by musicians, producers, and DJs to incorporate snippets of existing sound recordings into their own creations, making it a cornerstone of modern music production. The DAW you choose to use can profoundly affect your workflow and, ultimately, the quality of your music. In this blog post, we'll delve into the world of DAWs and help you choose the best one for sampling.
What is a DAW?
Digital Audio Workstations, or DAWs, are software applications that allow for the recording, editing, and producing of audio files. They're the digital equivalent of the traditional physical recording studio, and they've become indispensable tools for music production.
Criteria for Choosing a DAW for Sampling
Before we get into our top picks, let's go over what makes a DAW great for sampling. The best DAWs for sampling should offer:
Efficient sample manipulation: You need to easily chop, pitch, reverse, time-stretch, and otherwise manipulate samples.
Robust sample library management: A DAW should allow you to intuitively organize, search, and access your sample libraries.
Comprehensive MIDI control: MIDI (Musical Instrument Digital Interface) helps you control various parameters of your samples.
High-quality built-in effects: To shape the sound of your samples, a DAW should include a good selection of effects plugins.
Support for third-party plugins: To extend your creative options, the DAW should support plugins from other manufacturers.
Stable and efficient performance: Music production can be a CPU-intensive task, so your DAW should be stable and efficient.
Our Top Picks of DAW
1. AKAI Professional MPK Mini MK3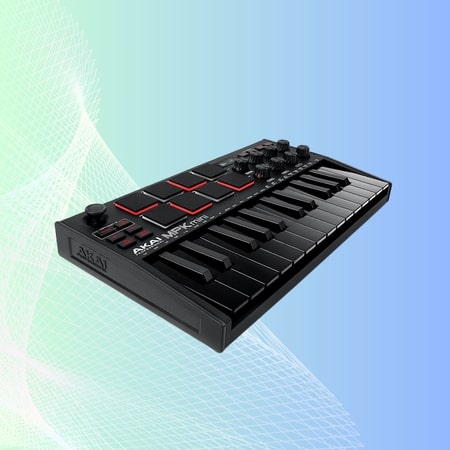 When it comes to music production and beat-making, having the right tools is essential. One such indispensable tool is the USB-powered MIDI controller with 25 mini MIDI keyboard velocity-sensitive keys.
This compact device packs a punch and is perfect for studio production, virtual synthesizer control, and beat production. Its USB-powered design ensures easy setup and usage, while the velocity-sensitive keys allow for expressive and dynamic performances. Whether you're designing intricate soundscapes or laying down grooves, this MIDI controller gives you a hands-on approach to navigating your sessions.
The MIDI controller's unique features provide total control of your production process. An innovative 4-way thumbstick offers dynamic pitch and modulation control, letting you add movement and expression to your sounds. The built-in arpeggiator allows for spontaneous creativity with its adjustable resolution, range, and modes.
For an immersive beat-making experience, the controller boasts 8 backlit, velocity-sensitive MPC-style MIDI beat pads. These are perfect for programming drums, triggering samples, and controlling virtual synthesizer/DAW controls.
Additionally, you can manipulate your virtual instruments and FX with 8 360-degree knobs assignable to all your music studio plugins. To top it all off, the controller comes with a comprehensive music production starter kit, including MPC Beats, 6 Virtual Instruments, and 2GB of sound content, providing over 1500 sounds to kickstart your production journey.
2. Novation Launchpad Mini [MK3]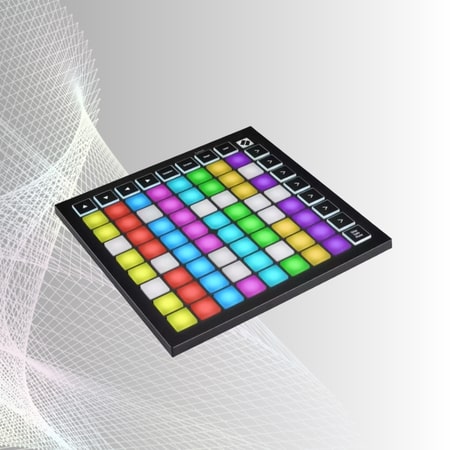 Creating seamless performances has never been easier, thanks to the Launchpad Mini's 64 vibrant RGB pads, perfectly mirroring your Ableton Live session. The color-coded pads provide you with a visual representation of your clips, ensuring that you always know which ones you're triggering.
This feature is a game-changer, allowing you to focus on your performance rather than worrying about accidental clip activations. The intuitiveness of the Launchpad Mini makes it the ideal tool for live performers, turning complex actions into simple button presses.
The Launchpad Mini is not just a controller; it's the perfect companion for Ableton Live. Its exceptional integration with Ableton lets you launch clips and scenes at the press of a button. With dedicated Stop, Solo, and Mute controls, you can manage your performances right from the Launchpad Mini without the need for a mouse.
The Novation Components tool enhances this even further, allowing for high customization with three custom modes and easy MIDI mapping editing. Despite its comprehensive features, the Launchpad Mini remains compact and lightweight, perfect for on-the-go musicians. Its bus-powered design means it can fit into any setup, making it an essential tool for traveling artists.
Novation has also made it incredibly easy to get started. With step-by-step video guides and an interactive onboarding process, you'll be set up and making music in no time.
3. Focusrite Scarlett 4i4 3rd Gen USB Audio Interface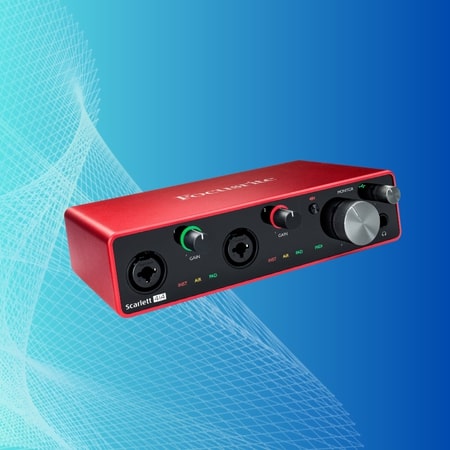 Elevate your music production to a professional level with Scarlett 4i4's top-tier mic preamps. This interface offers two of the finest preamps in the Scarlett range, promising to deliver brighter, more open recordings.
An additional switchable Air mode enhances the clarity of your acoustic instruments and vocals, further enriching your sound quality when recording. Coupled with four balanced line inputs and outputs, the Scarlett 4i4 is ready to accommodate your synths and other line-level audio gear, helping you get the most out of your setup.
With super low latency and class-leading drivers, you'll effortlessly capture audio that is polished and faithful to the original source.
Scarlett 4i4 ensures crystal-clear playback in studio quality, thanks to its high-performance converters that support recording and mixing at up to 24-bit/192kHz. All the intricacies of your sound will be preserved, allowing you to experience every detail in your track upon playback.
Getting started with Scarlett is a breeze, courtesy of the Easy Start online tool, which assists you in setting up for recording or playback. To further enhance your creative journey, the Hitmaker Expansion provides a plethora of sound content and software from industry partners.
Expect to craft powerful guitars, luscious keys, and colossal drums while achieving studio-quality vocals with Antares Auto-Tune Access for near-real-time pitch adjustment. Best of all, you can enjoy peace of mind with a three-year warranty on any Focusrite hardware, ensuring reliable support for any manufacturing faults, no matter where you are in the world.
4. M-Audio AIR 192×14 – USB Audio Interface for Studio Recording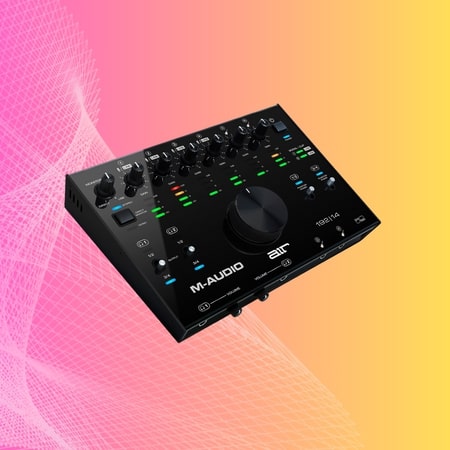 Experience the pinnacle of audio capture with the use of top-tier components and high-resolution capabilities. This audio interface offers professional-grade recording and monitoring to your Mac or PC, with a resolution of 24-bit/192kHz that ensures every nuance of your performance is captured in detail.
The interface utilizes Hi-Speed USB / USB-C circuitry to provide you with the fastest possible connection, achieving a class-leading round trip latency of just 2.59ms. This means you'll experience virtually no delay between your performance and what you hear in your headphones. Both USB and USB-C connection cables are included for maximum compatibility.
The interface goes beyond basic connectivity with its assortment of inputs and outputs. It boasts 4 XLR+¼" TRS combo inputs, 2 ¼" instrument inputs, and 2 ¼" line inputs, allowing for a wide range of gear to be connected.
On the output side, stereo ¼" outputs come with a direct mono/stereo switch, while 2 ¼" assignable auxiliary outs and 2 ¼" headphone outputs offer versatile monitoring options. Moreover, 5-pin MIDI In/Out connections make it easy to integrate your synths, sequencers, and other external MIDI gear.
The device also features a rugged metal chassis, a large central volume control, VU LED meters, and a USB/Direct knob for zero-latency monitoring. On top of that, a suite of professional software, including MPC Beats, Ableton Live Lite, Touch Loops, and various other plugins, is included to kickstart your creative process.
5. Qcon Pro G2 8-Channel Universal Daw Control Surface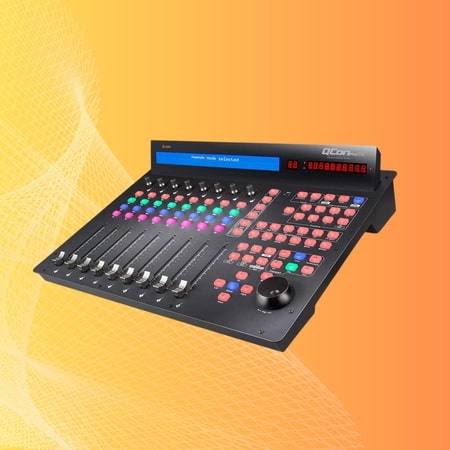 Gain absolute command over your music production with this universal DAW control surface, which supports Mackie control and HUI protocols for seamless integration with your favorite software. The control surface boasts 9 touch-sensitive motorized faders, providing a tactile and intuitive interface for precise adjustments.
Its versatility is enhanced with presets and overlays for popular DAWs like Cubase/Nuendo, Logic Pro, Ableton Live, Pro Tools, and FL Studio, among others. This means that no matter your preferred production environment, you'll find a configuration that suits your workflow.
In addition to the motorized faders, the control surface features a large backlit LCD for each channel, displaying crucial information like channel names and control values. The device also features illuminated buttons for each channel, including record-enable, solo, mute, select, and monitor options, providing you with all the necessary controls for a fluid recording and mixing process.
As a bonus, the package includes a range of free recording software available for download upon purchase and registration. This includes the Harrison 32C Vocal Intensity Processor, which brings a taste of Harrison's analog console heritage to your setup, as well as Tracktion DAW Essentials, a collection of 16 contemporary FX plugins, and Bitwig Studio 8-Track, a compact yet powerful DAW. With these tools at your disposal, you'll be well-equipped to start producing, performing, and designing sounds like a pro.
Features to Look For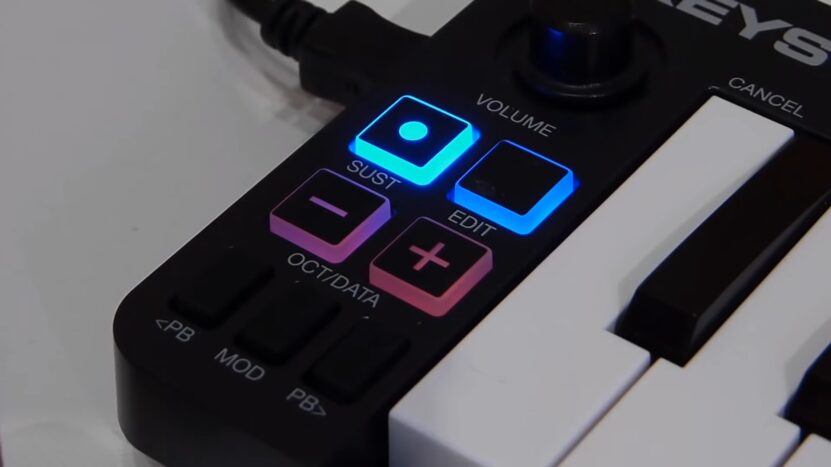 Each of these DAWs has its unique features, workflow, and interface, and the best one for you will depend on your specific needs and preferences. Here are a few more things to consider:
Interface and Workflow
The interface and workflow of a DAW are crucial to your music production process. If the DAW feels intuitive and inspiring, you're more likely to use it and make great music. Therefore, it's worth spending some time trying out different DAWs to see which one feels the most comfortable for you.
Compatibility
Make sure the DAW you choose is compatible with your operating system. Some DAWs are available for both Windows and Mac, while others are exclusive to one or the other. Also, check the system requirements to ensure your computer has enough processing power, memory, and storage space.
Budget
DAWs range in price from free to several hundred dollars. Your budget may limit your options, but remember, the most expensive DAW isn't necessarily the best one for you. Many affordable DAWs offer great sampling capabilities.
Learning Resources
Some DAWs have a steeper learning curve than others. If you're new to music production or to a particular DAW, make sure there are adequate learning resources available, such as online tutorials, forums, and customer support.
Final Words
Sampling is an art form that has shaped the music industry and continues to do so. The DAW you choose for sampling will play a pivotal role in your musical journey. Each of the DAWs listed in this article has its strengths and can offer you a unique set of tools to express your creativity. So take your time, experiment, and find the one that best suits your needs.